There are some things that bypass the style and taste sections of my brain and go straight to whichever lobe gets excited by Captain Kirk dialogue or any film that includes swing-dancing. Which isn't to say that my love of gothy spacesuit/bug outfits is totally uncritical -- it's just not always rational or on-trend.
Thierry Mugler and Gareth Pugh:
both labels I approve of for their habit of making things that look like they belong in an overbudgeted Philip K. Dick adaptation. Mugler is more established, now run by Nicola Formichetti (known for his work with Lady Gaga, although her only appearance this season was in
a rather pointless video)
but most famous for Thierry's own
dramatic corset designs
. Pugh is a young English designer, computer-literate enough -- unlike much of the fashion world -- to publicise his collections online using
stylish videos like this
rather than waiting for magazines to publish catwalk photos two months later. Which is a good thing, since his designs often need to be seen in motion to be properly appreciated, and may not appeal to the middle-aged fashion buyer market courted by, say, Chanel or Valentino.
This is probably obvious already, but
I adore Gareth Pugh
. Past works include:
inflatable plastic-foil capes
(N.B. watch that video, it's brilliant),
black-and-white
evil chessboard outfits
, and a whole myriad of post-apocalyptic warrior/mutant/dominatrix costumes.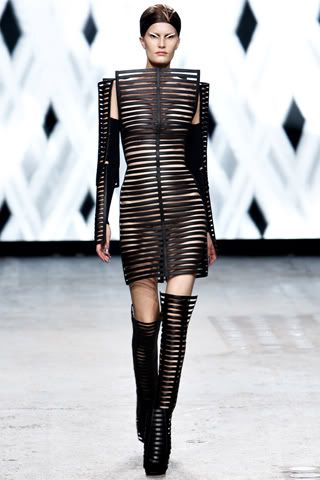 (All full-length images from Style.com)
Pugh and his collaborator, Ruth Hogden (creator of Pugh's badass cyberpunk-ish video art) couldn't seem to agree on what this show is about. Pugh says it was inspired by a
16th century diptych depicting Judith
with the head of Holofernes, and Lucretia doing... IDK, something else virgin/whore-ish. According to Hogden the runway show tells the tale of an imprisoned woman finding inner strength and transforming into an insectoid space-queen (or something).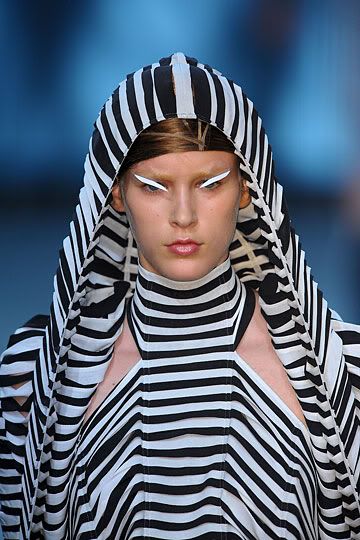 This photo one was from NYmag.com!
I guess that what with this grid theme and the cage bodices/headgear early on, I can
kind of
understand what Hogden was getting at with her escaping-woman story?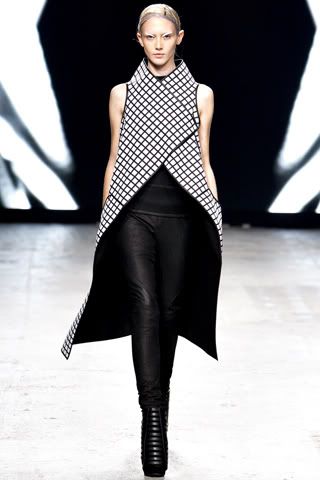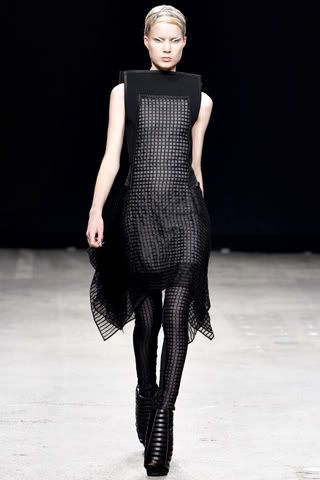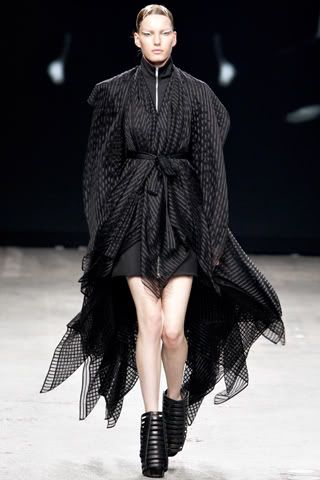 THE INSECTOID QUEEN APPEARS.


I do like to see the return of Pugh's eminently wearable plastic all-over head coverings. :D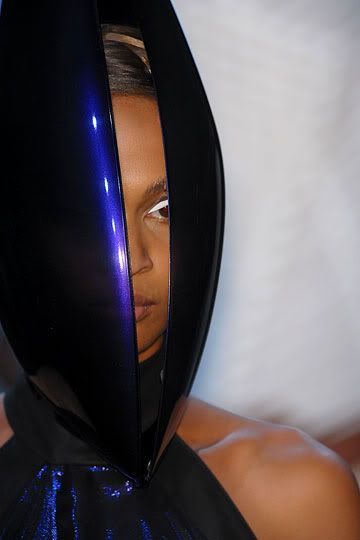 Rating: 6/10 for Pugh-ish ridiculousness; 6/10 overall.
Mugler's Spring 2012 collection seemed to me like a toned-down sequel to the
Gaga-modelled show last season
. "Toned-down" isn't something I expect from Mugler, but this
is
a ready-to-wear show, and since this is only Formichetti's second season as head of house he may be playing it safe. My main criticism would be that there's no distinctive theme or standout item from this show, meaning that by Mugler standards it was more or less a nonentity.
More Tattooine chic than Darth Vader.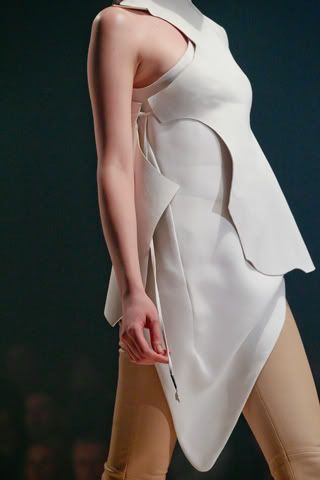 There's something to be said for this kind of calm precision, though.
Thierry Mugler's own designs used to emphasise tiny waists and extreme body-types, whereas Formichetti's jackets and dresses this season are neatly tailored and smooth, plus mostly unwearable by anyone who isn't bone thin. However, I can't find it in myself to criticise Formichetti for being elitist, because it wasn't as if the general populace were ever queueing up to wear Mugler's ridiculous fetish-lizard gowns fifteen years ago either.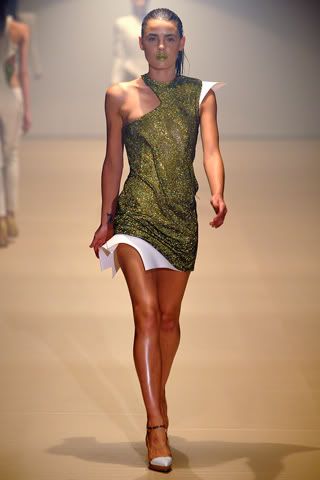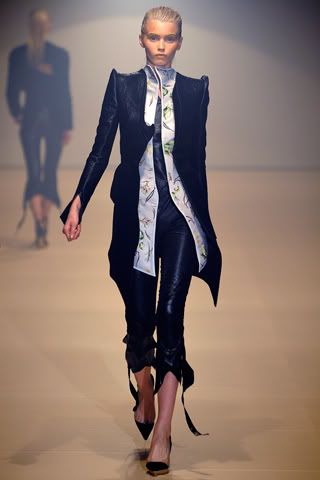 Rating:
4/10 for Muglerishness; 6/10 overall. (7/10 if the exact same clothes had been produced by Calvin Klein, who is obsessed with neutral tones like this but has lost the ability create anything remotely interesting.)