This will be a post requiring minimal typing, as I managed to burn two of my fingers sometime around 4am on Sunday morning while on my way out of Glasgow's premiere shitty goth club. A sad cautionary tale to today's youth, indeed. So: pictures.
Paco Rabanne
If the metallic/iridescent look of some of these outfits looks familiar, it's for good reason: the new head designer at Paco Rabanne is Manish Arora, of my first
post regarding Thor-themed couture
.
1970s glasswear with eyeholes = the best kind of satellite dish/hat?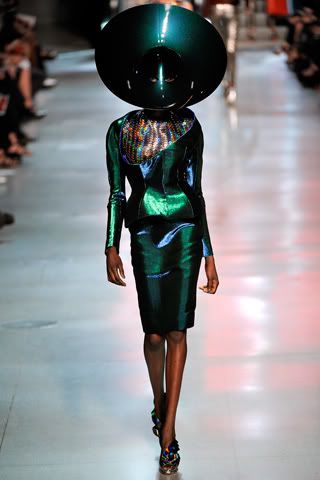 pics from Style.com, btw.
Do you know what I love? Scales. And armour. And clothing that looks like scales or armour. OK, I'm not gonna front: this was an excuse to post a picture of a Silurian. Note to anyone who doesn't watch Doctor Who and therefore doesn't know what a Silurian is:
look at your life, look at your choices!
Paco Rabanne; Silurian; Paco Rabanne. AWESOME; AWESOME; AWESOME.
Speaking of Silurians, check out this super-awesome
19th-century Japanese print-style fanart of Madame Vastra and Jenny battling cybermen
!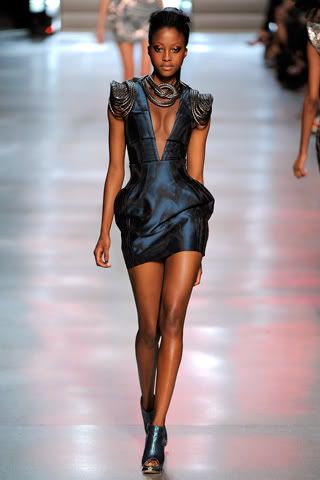 If all cocktail dresses could be this beautiful, I'd be satisfied.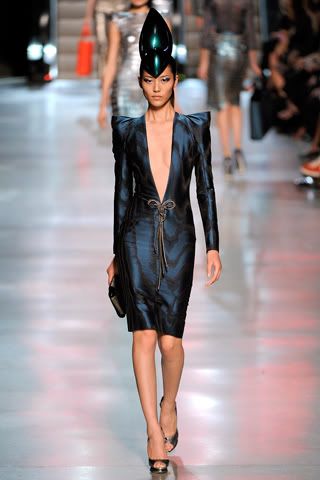 Not entirely sure what the inspiration was for these outside "MORE FOIL NOW", but I think I like it?
Issey Miyake
Issey Miyake: one of the few designers who I can describe as "wearable" without making it sound like a snobbish euphemism for "boring".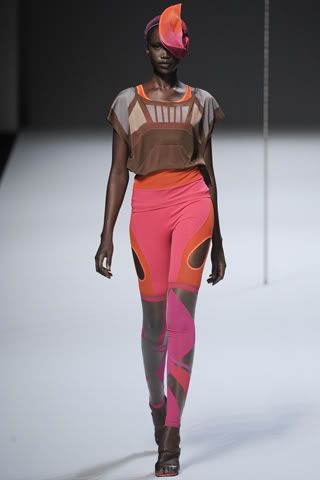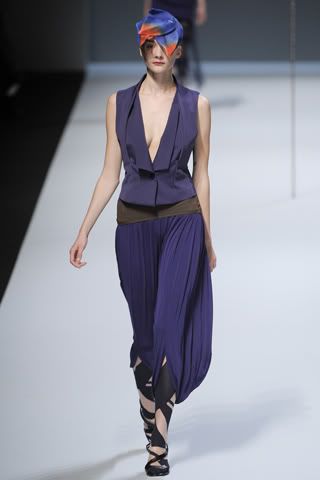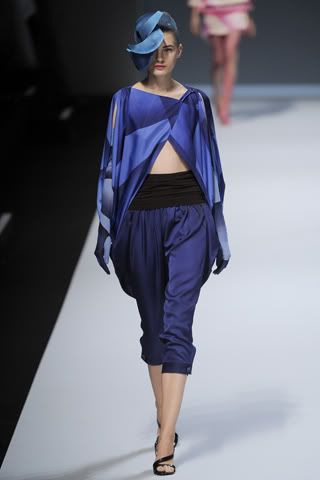 I am powerless before the lure of a pantaloon, my friends.
Jean Paul Gaultier
It's Gaultier, so there were heaps of lingerie-inspired looks in this show. There were also a lot of tattoos on show, whether real or in the form of printed body-stockings, and I think they worked pretty damn well when juxtaposed with all the vintage-style corsetry and girly frills.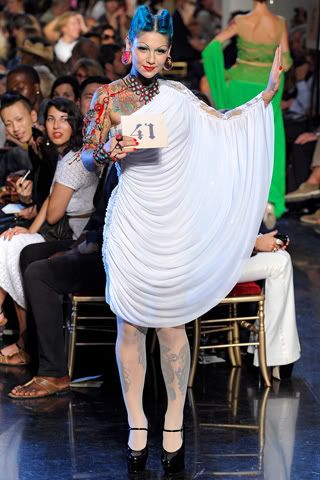 There were a lot of great "alternative" models in this show.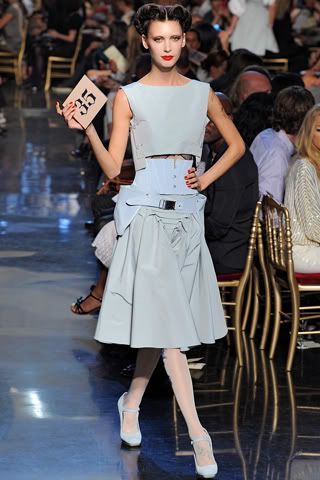 Brilliant structure work on this outfit.
Don't worry, this is meant to be underwear.
I wear tattoo-patterned tights quite regularly, and therefore approve most heartily of all these motifs. :)