Previously:
A Fan's Introduction to Costume Design
.
The Good Wife, as well as being very entertaining and probably the most grown-up show on television, contains some subtly excellent costuming. I haven't posted about it before because the clothes are just one aspect of a show that's brilliant overall, but like many aspects of TGW's quality they crept up on me.
This post requires a little backstory, but no major spoilers for the latest episode (3x10). Earlier in the season Alicia ( lawyer and titular "Good Wife") was told to hire a new junior, a choice narrowed down to two young women. Caitlin had a good resume but came across as a little frivolous, and Alicia clearly found it easier to relate to the more serious-minded Martha. However, Alicia was told to hire Caitlin anyway because she was the neice of one of the senior partners.
Because TGW is a show with three-dimensional adult characters, this didn't result in sulking or infighting. Although Caitlin wasn't Alicia's first choice, they've ended up with a good professional relationship, with Alicia even mentoring Caitlin to a certain extent. This week, though, showed the return of Martha, opposing them in court alongside Alicia's longtime rival, Michael J. Fox (!).
From left to right: Alicia, the client (an English professor played by Jennifer Carpenter of
Dexter
fame), and Caitlin. Alicia is wearing one of her billion skirt-suits and Jennifer Carpenter looks as much like an English professor as you can make someone who is both smoking hot and best known for playing a foul-mouthed ex-Vice-cop, but Caitlin's who I want to talk about.
I'm never 100% clear on the relationship between women's officewear on American TV and women's officewear in American reality. Do high-flying lawyers wear that many slinky dresses? Maybe. After all, who else can afford them? Anyway, Caitlin's dress looks great, but that's mainly because she's slim and beautiful -- it's quite a plain dress in fact. It goes down to the knee, up to the neck, and has almost a full sleeve. Any complaints about its suitability can be attributed to straight-up body policing, in my opinion. But now let's take a look at what Martha's wearing: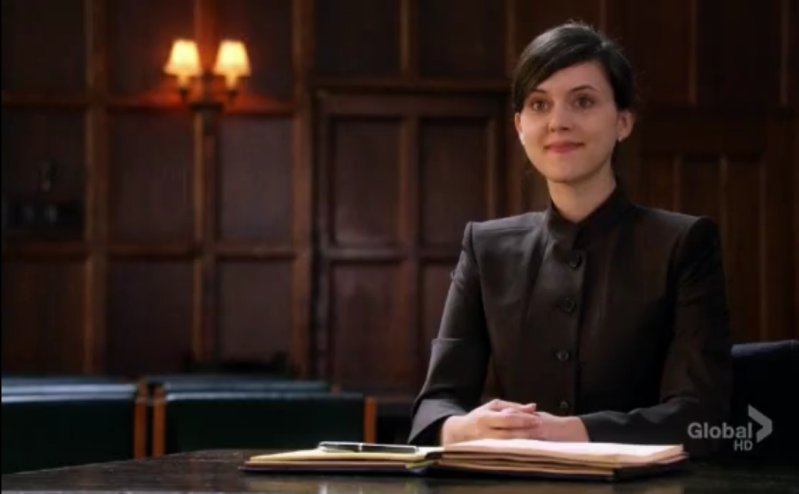 She looks like a member of the clergy. No! She looks like she's wearing one of the super-repressed Thought Police uniforms from the Christian Bale/Taye Diggs/Sean Bean masterpiece that is
Equilibrium*
.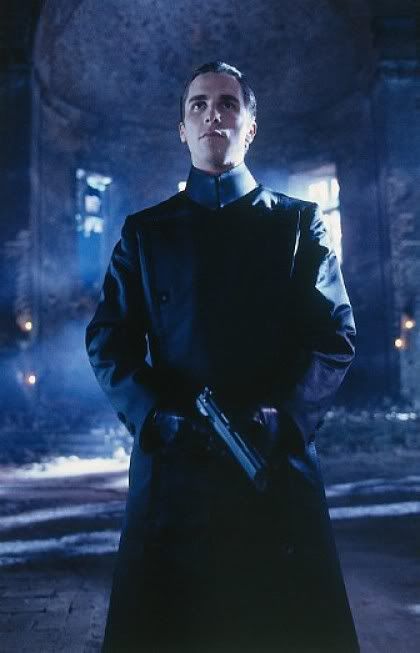 Because calf-length tailored robes make hand-to-hand combat so easy.
Now we've seen Martha, Caitlin seems like a childrens' TV present by comparison. Her dress is a
bright colour
! She even seems sort of unprofessional now because, you know... her forearms are exposed? And check out the accessorising as well: Martha's hair and makeup are relatively severe, whereas Caitlin has loose blonde curls and a delicate yet very visible gold necklace on over her dress, all shorthand for prettiness and femininity. Part of the reason for this, I think, is so viewers can instantly clock the two characters as the ones who were competing in an earlier episode, and to indicate their conflicting personalities. Later on their outfits tone down a little, with Martha in a more conventional dark suit and Caitlin in some Legally Blonde-esque maroon tweed:
See? I told you Michael J. Fox was in this show!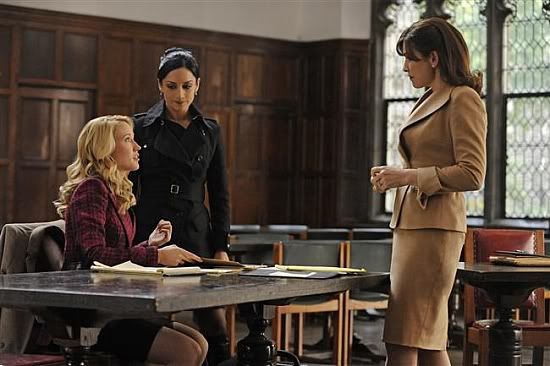 Once the audience know Martha and Caitlin on a less superficial level, they no longer need to dress like caractures of themselves. But they still maintain their personal style, with Caitlin as the girlier of the two and Martha sticking to severe black.
I've written before about my love of the underestimated-bimbo character in popular culture (for example,
Patricia Arquette in True Romance
), and have been watching the unveiling of Caitlin's character with great interest. With typical TGW wit and balance, this episode was neither a subversion nor an affirmation of the stereotypes Martha and Caitlin represent. Caitlin performs well in court, but retains the overly friendly and sorority-girl-ish mannerisms that cause people to make assumptions about her (sometimes accurately). Martha is rather smug and academically competative, but isn't the clear-cut academic career-woman the show might have made her -- she doesn't let the case devolve into a personal conflict, and calls for help when she needs it. Maybe the character traits that set them apart will serve them well later on, though. In TGW, most lawyers have some affectation or idiosyncrasy they habitually use to their adventage in court, and if Martha and Caitlin are to succeed they'll probably have to harness whichever easily-judged quirk they were born with.
One final thing about Caitlin's dress: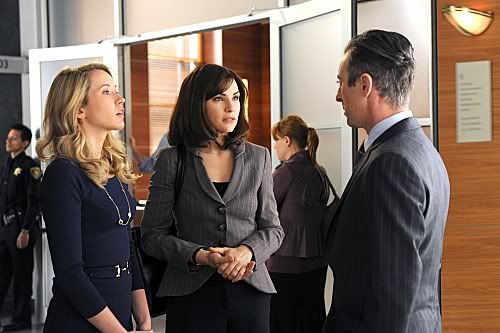 The most important thing in this photo is the back of Alan Cumming's perfect haircut.
This picture is from an earlier episode, and I'm pretty sure Caitlin's wearing the same blue dress (plus matching belt). It looks a little darker here, but that could just be down to lighting. If it is the same dress, kudos to the design team for giving Caitlin a specific outfit that she wears to court. Even if she's rich enough to buy a whole bunch of expensive clothes for work (entirely possible), she's still far younger than Alicia and it'd be unrealistic for her to never repeat an outfit. I find it very believable that a newly-employed young lawyer at a prestigious firm would agonise over finding the perfect court outfit that balances style, affluence and professionalism. Either that or Caitlin's a preternaturally accurate uniform-dresser.
*
Equilibrium note:
I can never decide which scene is better -- the one where Sean Bean reveals that poetry reawakened his previously-blocked emotions, the one where Christian Bale fights Taye Diggs and you kind of expect them to end up making out, or the one where Christian Bale proves he's human by rescuing a puppy and then staring at it quizzically for like fifteen seconds straight?