The Correspondents:
Dapper electro-swing merchants The Correspondents are back with a new video,
Cheating With You
. I saw this band many a time back when I lived in London and not only do they give great live performances, the frontman's costumes are a consistent delight. Usually it's some variation on the slimline neo-Edwardian suit, but I also recall hankering after his splendid green peacock-feather-patterned catsuit (not everyone can pull that off).
Engravings of preposterous 18th-century wigs
(via
The Oncoming Hope
):
Waiter, there's a hair in my satire!
Because who
doesn't
love 18th century wigs?
The non-season known as "Pre-Fall" has begun, apparently
: With Pringle Of Scotland, who for once have produced some clothes that I rather like. Ordinarily I don't have much interest in Pringle because I'm not a knitwear person (sorry) and the silhouettes aren't to my taste. Yes, sometimes even the endorsement of Tilda Swinton, Ultimate Human (to give her her full title) is not enough to seduce me. However, some of the pre-fall 2012 stuff is rather nice:
pics from NYMag.com
More pics and links below the cut!
The only item from this collection that's actually to my own taste is the grey coat in the first picture, but I enjoy the colour palette and the hood-things on the shoes. I always think bare legs look so cold when they're exposed in autumnal collections like this, though! You can practically see the goosebumps.
I enjoy the juxtaposition of the orange collar/jacket and the burgundy thing underneath, so the furred overcoat is quite annoying. Take it off so I can see the outfit properly! Tch, honestly...
How wives should undress in front of their husbands (according to Life magazine n 1937, that is):
A thinly-veiled reason to feature burlesque dancers in a reputable publication in the 1930s. One has to wonder, whichever way you're undressing in front of your husband, the husband is still ending up with a naked wife so does it really matter all that much? (
No nudity, but probably NSFW because of 1930s ladies in their underwear
?)
Darcy Clothing
: I'm too poor to go hunting for awesome period costume outfits at the moment, but
this company looks brilliant
. They describe themselves as supplying "accurate replicas of mens period clothing" and appear to produce everything from braces to nightcaps. (I mainly sort of looked at the pictures and sighed to myself.)
"Cheap clothes for old fat women":
This glossary of fashion jargon terminology
is so accurate, even now.
Hugo:
Although I didn't find this film as mind-bendingly incredible as many seem to have done, it
was
pretty excellent. I do think that part of its critical success can be attributed to the fact that it's about the magic of cinema, a topic that obviously hits straight to the heart of any reviewers/movie buffs. Visually it was absolutely beautiful, though.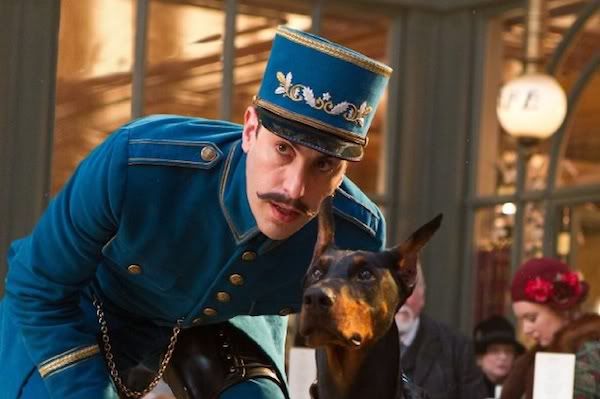 Pic from here. I seriously did not realise this character was played by Sacha Baron Cohen until the credits.
From this blog you might assume that I totally obsess about all the costumes in movies, but in fact I don't pay huge amounts of attention to them most of the time. That being said, I really enjoyed all the heavy, old-fashion tweedy fabrics they used in
Hugo
-- it really added to the warm, nostalgic colour palette. I left the cinema this evening with a craving for that blue-grey heavy suiting that went out of style sometime around WWII.
From here. Gotta love the sensible, shapeless woollen childrenswear of the early 20th century!
Hugo would be a pretty good movie for the "spot the Harry Potter actor" drinking game, a pastime that usually only works for British films. I spotted Madame Maxime, Uncle Dursley and Narcissa Malfoy, but there may have been more in there that I didn't pick up on!