The frequently boring nature of Pre-Fall lines (plus my desire not to spam you with multiple tiny posts) means that most designers are not going to get their own post this season. Although
Karl Lagerfeld decided that his Pre-Fall 2012 show could not be adequately displayed without banquet tables and a miniature gold Chanel-logo railway
, most designers tend to show their Pre-Fall collections by standing a model in front of a blank background, telling her to pose like an awkward automaton, and photographing her in the accepted manner of "glum and weirdly unbending".
Michael Kors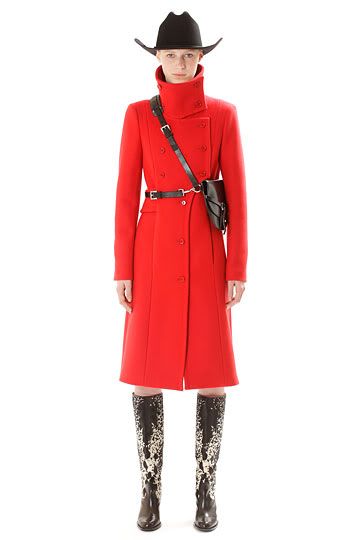 I took one look at this and lost several seconds of my life to thoughts of Due South, the greatest Canadian Mountie-based surreal comedy-drama cop show of all time.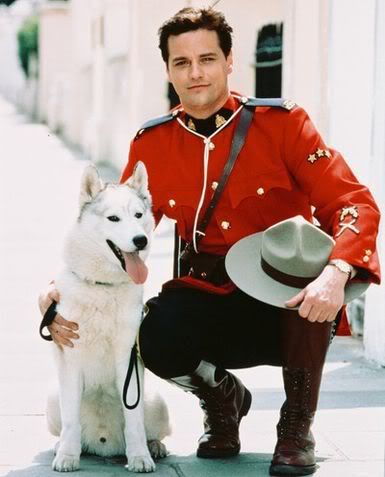 Seriously, the awesomeness of this show cannot be underestimated. So as to avoid me spending the rest of this post talking about the 900 reasons why Due South is incomparable in the cop show genre, I merely suggest that you find someone who has seen this show, and ask them what they thought. YOU WILL NOT RECEIVE A NEGATIVE ANSWER.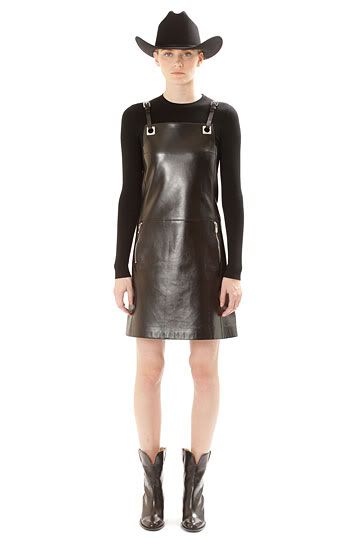 pics from Style.com
While not
too
ridiculous, I'd still categorise this as a Zoolander outfit. It's got a pointless cowboy theme (ie, the most overused and least interesting theme ever, trotted out by at least one designer every year and seldom explored very well), plus the combination of leather dress over fabric t-shirt makes it look both awkward and slightly as if the model is wearing a butcher's apron. Sexy Hipster Cowboy Serial-Killer, anyone? No? (No.)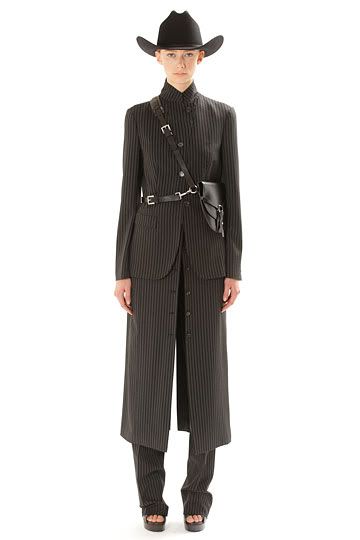 Cowboy assassin accountant?
Let's run through this one. The fabric is all slouchy 90s ladies' trouser-suit but the length and cut of the jacket (waistcoat??) indicate Matrix-style goth nerd. Then once you notice there's a short jacket over the longer one, the overall weirdness of this outfit percolates into your brain. And that's not even taking into account rigid stetson and Sam Browne belt: inexplicable Mountie accessorising.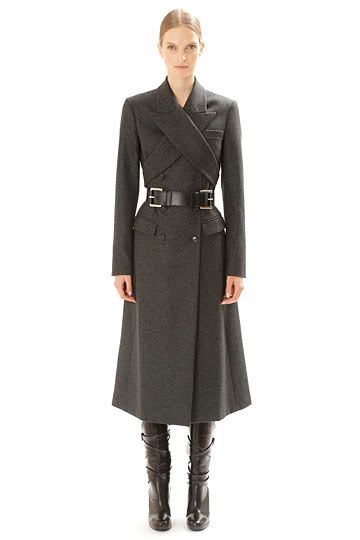 I LOVE THIS. Warm, beautifully fitted winter coat, suitable for a range of figures and with an interesting enough touch (the wraparound lapels) that it's a conversation-starter without seeming agonisingly on-trend or flashy. This is the point of high-end designer clothing.
About a quarter of the Michael Kors collection had these skirts. Sigh. Very, very difficult to carry off unless you're going the cabaret/steampunk route, which these are decidedly
not
. This just looks cheap, and is most likely to end up as something a B-list starlet wears on the red carpet in order to get a quick and easy buzz of "oh look, she's on-trend!" without actually
looking good
. What we have here isn't a skirt -- it's an arse-cape.
Jason Wu
WARM COAT = A+. This outfit is kind of a mixture between Sherlock Holmes (book version) and Blair Waldorf from Gossip Girl. Who knew
that
was a look that works?
Donna Karan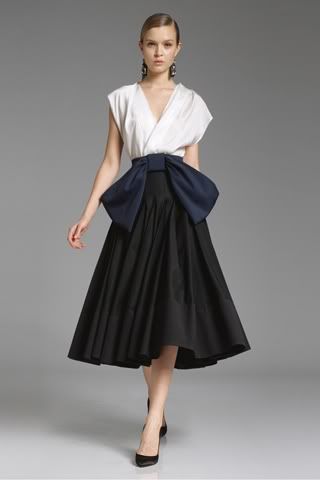 There were several interesting New Look-esque outfits in this collection, but I felt this one was the simplest and most appealing. It makes me think of that narrow-waisted
Henry Clarke photograph
style. Interestingly, I think that an alteration to the colour palette (Hot-pink/orange/red? Mint-green/white/orange?) would turn this into one of those Jil Sander colour-blocking outfits everyone was raving about last year, albeit less shapeless. Look:
Jil sander, Spring 2011
Zac Posen
At first this dress looks very dull, until you realise that it's subtly ridged along the waist from right to left, with ribs spanning across the waist and hips and down the right thigh, mirroring the slimming effect of a wrap dress.
Another 1950s New Look silhouette! POWERLESS TO RESIST.
Perhaps it's down to the fact that the model resembles her slightly, but to me many of these outfits seem to be perfect for the character of Victoria Grayson from
that show you guys probably already know I'm obsessed with
,
Revenge
. There's a real "chic, skeletal ice-queen" thing going on with this collection.
A lot of the time super-formal eveningwear like this bores me. I realise that may sound odd coming from a fashion nerd, but I find that when it comes to these enormous strapless Oscar red carpet gowns, designers tend to go over the top and/or endlessly rehash "classics" without much visible thought. That being said, this navy-blue gown is
bitchin
'.
And finally we come to the best of the lot...
PERFECTION.
This, dear readers, is what Galadriel wears to the ball, circa the early/mid-20th-Century. MARVELLOUS.