I've already written quite extensively about my love of
the character Nolan Ross in Revenge
. Not only is he the best character in what is already an
extremely
entertaining show, but his dress sense is eye-bendingly awesome. He has this whole peacockish prepster-satire thing going on, and once you start looking out for it you notice that he appears to be wearing themed outfits in certain scenes. Last week he donned a sleazy-looking brown silk patterned dressing-gown to lounge around in after a sordid, loveless tryst, and I'm
almost certain
this was on purpose.
At the start of this week's episode (1x09) Nolan is wearing a fairly everyday ensemble: top half normal-looking, bottom half douchey prepster. (Tragically, you can't see the white dress shoes he's wearing to go with the white jeans and white belt. But rest-assured they are very white and shiny.)
This is his "I'm not going to be hanging around anyone important today so who cares" outfit, the one he wears to do minor household tasks such as purring threats into the ears of people in bars at 11am, and spying on murderous identity-thieving strippers. (I know, right? This show is amazing.) However, later on he's invited to a party full of financial types, there to invest in the probably-corrupt company of his part-time-rentboy fuckbuddy. Aside from the show's protagonist and the aforementioned part-time-rentboy financial advisor, he's the youngest person at the party by about 20 years. So he wears this: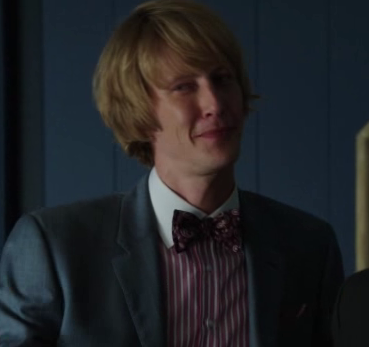 INSPIRED. He's dressed like a 70-year-old banker! But in a bow-tie, because he's
at a party
! White contrast collar on a striped coloured shirt? PERFECTION. Hyper-masculine Republican power-dressing with an ironic twist, because his main aim is to blackmail his scheming not-boyfriend. Plus matching maroon paisley tie and maroon pocket-square. This is what my brother refers to as a "William Shatner shirt" because it's what William Shatner's aging conservative lawyer character wears in Boston Legal: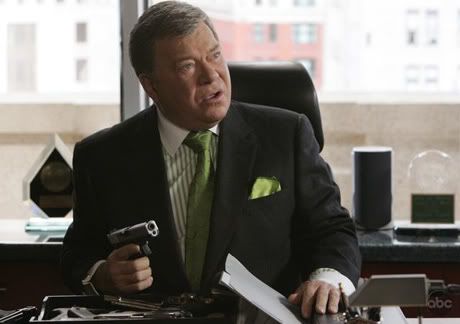 IT'S LIKE EXACTLY THE SAME OUTFIT.
NOLAN ROSS IS IN COSTUME AS AN OLD-FASHIONED MILLIONAIRE INVESTOR. Once again, Nolan Ross pairs his Hamptons parody outfit perfectly with the situation. Let's look at it in motion, shall we?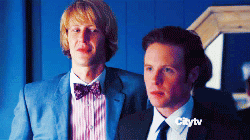 .gif from http://hollowglances.tumblr.com/
DIVINE. That tie really brings out the colour of your dastardly smirk, Nolan.