For the last ten years or so, blockbuster comicbook movies have been getting gradually less and less comicbook-y. That's not a criticism -- after all, The Dark Knight is a zillion times better than the
infamously godawful Batman & Robin
, even if it does take place entirely in the dark and focus on a ridiculously good-looking billionaire being sad about how hard his life is -- but I did enjoy getting a chance to see a movie as shamelessly comicbook-looking as
Thor
, because it really would have been impossible to make a story about sparkly alien god-beings seem super dark and serious. His weapon is a
magical hammer
, hello.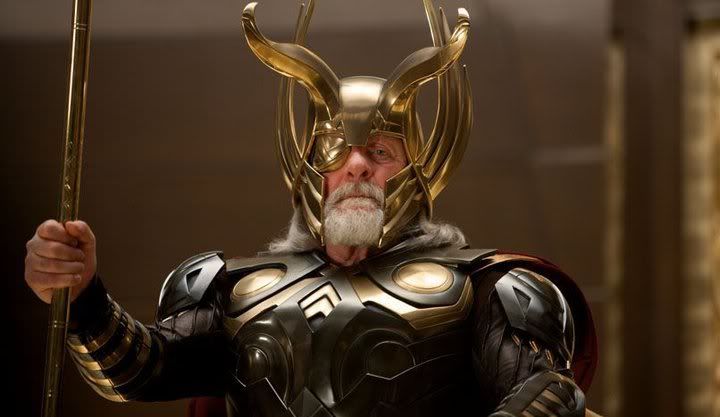 As you can tell from his helmet, nobody in Asgard gives a shit about low doorways.
(Also,
Thor is the first feminist superhero movie
. It is! Read that article, it says it better than I ever could.)
I was a bit doubtful of Thor at first, especially since when I asked
my comicbook friend Michael
whether it was just a film about an angry blond jock with an enormous hammer, he said, "YES, AND THAT'S WHY IT'S AWESOME." But once I saw it I had to agree that
while it was still a film about an angry blond jock with a hammer
, it WAS awesome! It was 100% sparkles and explosions, and 0% tiresome Hollywood sexism! The hero had a convincing rapport with his love-interest, unlike Batman (Christopher Nolan, I love you, but why must all your female characters be cardboard cut-outs and/or dead?) or Spiderman (Mary Jane:
start carrying a taser, you get kidnapped like twice a week
)! Thor and Loki's daddy issues were interesting and emotionally compelling, unlike the representation of pretty much
any other blockbuster hero's daddy issues ever
.
Disco eyepatches are in!
And it has some sparkleicious fantasy costumes, the likes of which have not been seen in years. I love the more "realistic" style of costumes used in LOTR and Harry Potter, but if they'd make
Thor
all harsh-looking and mysterious it would have ruined it, I think. Much of this movie's appeal comes from the contrast between the over-the-top, rainbows-and-gold visuals of Asgard (where Thor is an alien prince with a magical hammer), and Natalie Portman's impoverished scientist lifestyle in New Mexico (where Thor is a hot yet possibly-crazy homeless man). If you haven't seen the movie then most of the Asgardian costumes in this post are going to look completely ridiculous, but I promise you that in the context of a civilisation of alien vikings (really
glam
alien vikings, who despite the
very sound advice
of
the superhero costume lady from The Incredibles
, still have an ongoing love-affair with capes) they are perfectly acceptable.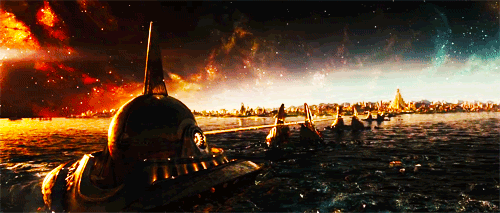 Asgard, land of sparkles. That long walkway in the middle is made of GLOWING CRYSTALS and is called the Rainbow Bridge, just FYI.
OK, so for maximum shininess I'd put Heimdall first, even though he's a relatively minor character. Caveat: I have not seen an actor look so much look like an action figure in a
long, long time,
maybe ever. Even Captain America did not look this much like an action figure, and Captain America practically
is
an action figure.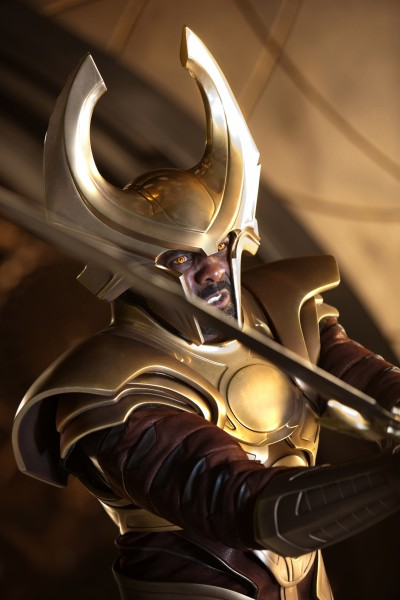 His job is basically the all-seeing alien viking equivalent of being the guy who checks the CCTV cameras for break-ins. He spends most of the movie standing around looking imposing and wise, so it's not totally clear to me why he requires metal shoulderpads the size of a buick. HOWEVER, I am not Asgardian so who am I to judge? Like Liberace or Roman emperors, most these guys find it necessary to wear capes to breakfast. Haters to the left.
Asgardians are not subtle when it comes to phallic symbols. Ask Thor about his hammer some time.
When it comes to comicbook adaptations the costumes are very rarely the same as those found in the books, both because many superheroes change costumes regularly and because those costumes look either like brightly-coloured 1980s jumpsuits or really specialised stripper outfits (or both). However, considering how silly comics-Thor costumes appear to be, they've carried a surprising amount of the original looks through. (You may correct me if I'm wrong, readers -- I admit that I've never actually read a Thor comic so this assumption comes entirely from tumblr images.) For example, the whole helmets thing. Loki's comicbook costume appears to be
something like this
, leading to movie-Loki looking like a cross between Johnny Weir and a really gothy antelope:
I really enjoyed Loki's armour because it was so clearly ceremonial. This does not look to me like working armour. Thor, Sif (Thor's female friend) and the Warriors Three all had comparatively functional armour, but Loki's armour fails to cover his legs, a bunch of his torso, and his
throat
. Loki's not a warrior. In fact, there's a very obvious brains/brawn delineation between Loki and Thor from the very first scenes in Asgard, as I recall. I suspect that Loki is the Asgardian equivalent of a nerd, and he mostly seems to rely on his wit and magical powers to win fights.
In pre-prodution his Asgardian costume looked a bit more melodramatic
, but I prefer what they went with in the end (plus it's far more suited to Tom Hiddleston's slim figure).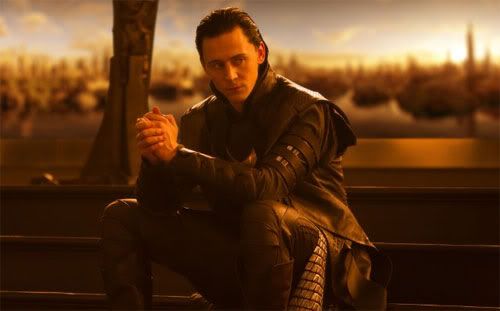 He's wearing black, so by standard Hollywood blockbuster logic he's probably going to turn evil.
Photo via Tumblr, I'm afraid.
Queen Frigg has a selection of super glam outfits, most of them in the 1970s stage costume/fantasy cartoon realm, like this one. Personally I think this gown is stunning in a "that would be horrifying in real life" kind of way. I love the combination of retrofuturistic silhouette (like the capes the men wear, her gown has stiffened boning to hold it in shape at the top) and cheesy celtic knot/Lord Of The Rings elf-ish patterns down the sides. Here's a close-up of the zillions of uncomfortable-looking rhinestones:
Queens don't need to be able to move their arms; they have people to do that stuff for them. She probably has like five disco Valkyries standing off to the side with magical alien hairspray to fix her hair if it ever comes out of its rigid curls. This costume would not look out of place in old-school Star Trek, and therefore I approve of it on principal.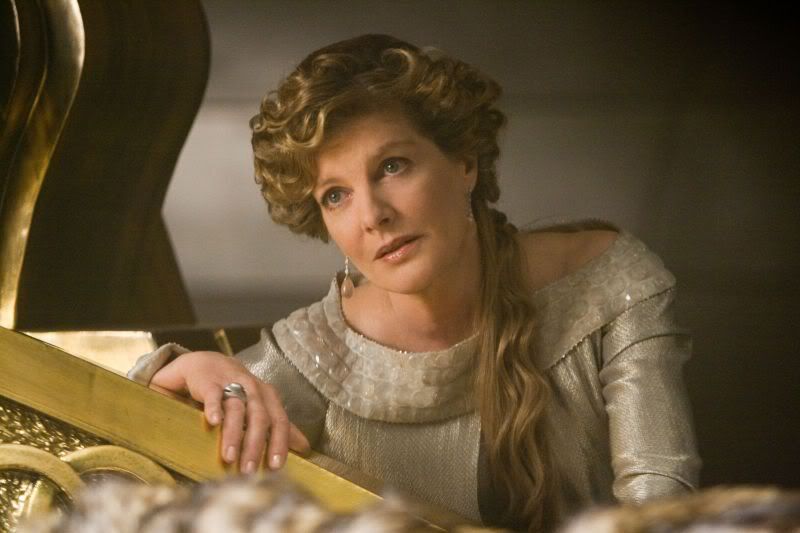 This is what movies would like to think ladies look like when they are being "casual" and/or are just about to go to bed. ie, part of her hair is slightly out of place but she's still wearing earrings, a ring, lipstick, and a metal-fibre dress. This is what alien viking queens wear to their husbands sickbeds, apparently.
As for Sif and Thor's Asgardian BFFs the Warriors Three, I couldn't find any decent full-length pictures so here's one of the stunt actors in the stunt versions of their costumes from the beginning of the movie.
Note that Sif is wearing just as much clothing/armour as the men: practically unheard-of! Hogun's costume looks somewhat inspired by traditional Japanese armour, with a split half-skirt of flexible armour around the thighs. Fandral (the blonde dude) is meant to be a bit of an Errol Flynn-esque rake and therefore has a whole Robin Hood thing going on with the green colour-scheme and the turned-up cuffs, not to mention the fabulous hair.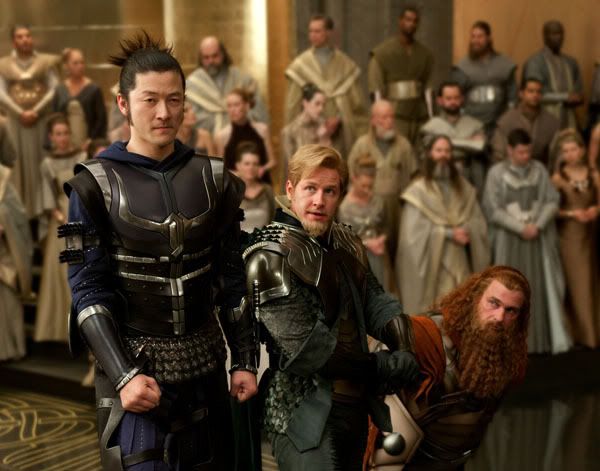 Having looked at the Warriors Three comicbook picture on wikipedia, I think this is a fairly reasonable adaptation. I mean: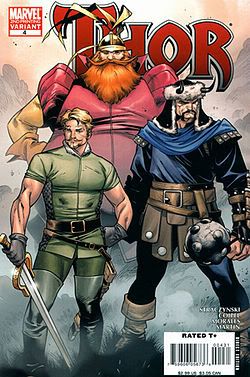 Volstagg is like giant viking Henry VIII in magenta shoulderpads, Hogun is a Mongolian warrior wearing a leather miniskirt and toting an enormous metal club, and Fandral is wearing what appears to be thigh-high boots and a fur-collared muscle shirt. Did I mention that these guys are from a culture that's developed interstellar travel?
I fucking love it
. Watching this type of movie generally requires you to switch off the part of your brain that thinks things like, "but why are they riding horses/carrying hammers instead of laser pistols/still living in a monarchy?"
The true majesty of Thor's epic cape-and-armour outfit is best illustrated by standing him next to a normal-sized person wearing normal earth clothing, so here we go: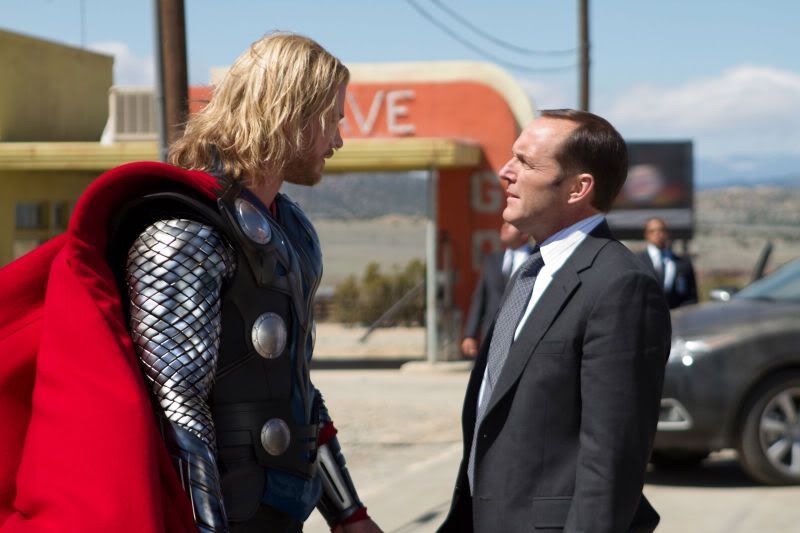 SO RED. SO SHINY. SO... CODPIECE-Y. Also, his fishscale armour is really well made, they've managed to make it look like it's almost painted on to his ludicrously sculpted biceps. Kudos on that one, bicep-measurers. Your task is an evidently an arduous one and I applaud you for it. I'm still not really clear what those little shields on the torso are for, though. Decoration, I guess. The cape, of course, is wonderful. I was very heartened to
learn from the costume designer
that quite a bit of work went into designing the capes -- if you think about it, it's actually pretty hard to make a cape that billows when you want it to and stands still the rest of the time without bunching up in weird places.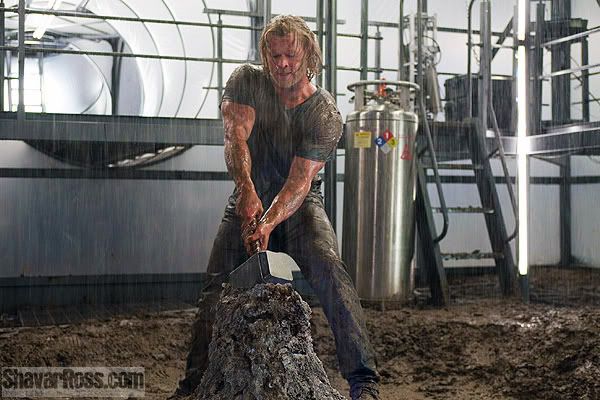 He has some muscles.
Once on Earth, Thor's costumes become almost aggressively normal and generic-looking. In a way this emphasises how alien he is, because we've already got used to him being the dude in the cape, plus he's now a huge loud blond smiling body-builder in the middle of a zero-horse town in New Mexico. From a practical perspective, I assume that Thor's new friends had to quickly borrow and/or buy him a new wardrobe from the local thrift store, so plaid shirts and jeans make sense. Anyway, now for the most shocking part of this post: the Earth ladies.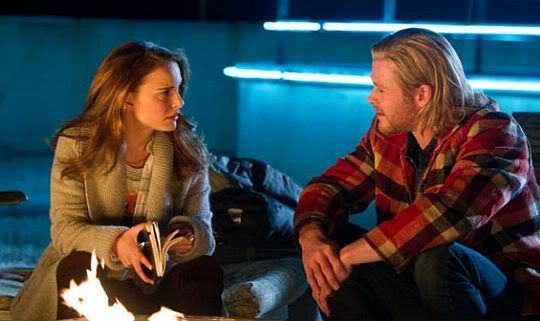 SHE'S CHILLY SO SHE'S WEARING A SWEATER.
All of Natalie Portman's outfits are totally boring and sensible. Both Natalie Portman and Kat Dennings are stunningly beautiful, but Natalie Portman's character is a workaholic scientist and both women look like they're dressing for comfort, although Kat Dennings is a little more esoteric in style.
Never in all my years of superhero/cheesy blockbuster movie watching have I seen a scene like this next picture, in which two female characters (one of whom is funny and confident and the other is a workaholic science geek --
yet neither are mocked and derided for these characteristics, either implicitly or explicitly
) sit down to discuss their work while wearing sensible warm clothes and being awesome BFFs.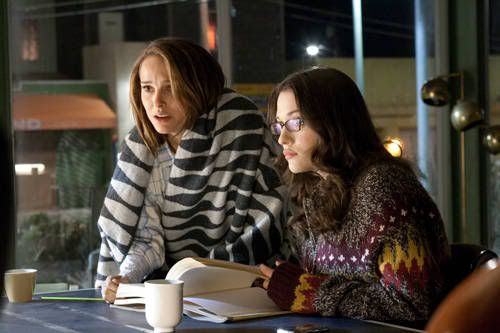 OMG Darcy Lewis I love you, please be in all future superhero movies forever.
I'm rather proud of myself for making it all the way through this post without a single reference to the fact that Loki just needs a hug or that Odin is a shitty father (I COULD GO ON ABOUT THIS FOR A WHILE), so as a reward to myself here is a picture of Loki in what may well be my favourite outfit of the entire film: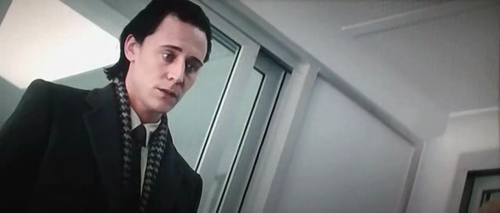 To my endless disappointment, no full-length pictures are readily available of Loki in his Earth suit. However, rest assured that he looks amazing in it. This was the only costume I thought consciously about while I was watching the film, because to me it really illustrated the differences between him and Thor. Thor, while he is a likeable guy and therefore would have done OK in the end, really fell on his feet by immediately meeting friendly Earthlings who were willing to show him the ropes vis a vis how to buy coffee and cross the road without getting run over. Had Loki been the one banished to earth I think that he'd have hidden in the shadows for a day or so until he'd learnt enough Earth mannerisms to pass, and then he'd pursue a career as a con artist. In this scene from the movie he is (presumably) on Earth for the first time, yet he's immaculately dressed in a suit and coat. I choose to ignore the fact that he's also
invisible
, making such a disguise somewhat pointless, and instead concentrate on the fact that he's 100% tragic dapper ice-prince.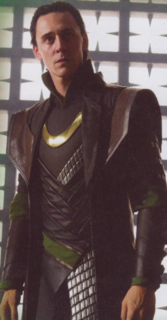 Postscript: Regarding Loki's "just chillin' in my black leather troubled-younger-brother outfit" costume (pictured above), I can't help but think of the designer Haider Ackermann, who does a lot of interesting work with rich iridescent fabrics and unusual structuring while still making all his designs seem incredibly classy and smooth. Beautiful.
Here's how to dress like Loki if you're a lady and also have $10,000 spare. (pics from Style.com)