This is going to be the kind of What I Did On My Summer Holidays post that seldom appears on this blog, mostly because I've been living in what amounts to a gigantic artists' commune for the past two weeks and am consuming about 1% of the geeky pop-culture stuff I usually do.
Some background, first: The Edinburgh Fringe is an alternative theatre/comedy/music/art festival that runs throughout August, in conjunction with various other arts-type festivals around the city. This year's Fringe programme includes 2842 "official" shows, most of which are stand-up comedy and experimental/indie theatre, plus tons of street performers and unofficial stuff on the side. Basically, for the duration of August every single building in Edinburgh that could conceivably be turned into a theatre venue, is. Up to and including lifts, taxis, and peoples' bedrooms. I'm currently living in the lap of luxury because I have an
actual bed
to sleep in (thanks to my lovely friends Grace & Hector!), which is more than many of the performers get.
I'm going to as many shows as it's humanly possible to fit around my work schedule, covering as wide a variety of genres as I can. I assume that it's rather obvious at this point, but I LOVE THE FRINGE. There's something for everyone here, from cheesy mainstream stand-up comedy to weird experimental theatre to circus acrobats to jug bands to Tibetan Book Of The Dead: The Musical. Picking what to go to is very difficult, particularly in the first week when reviews haven't come out yet, but the way I see it is that if you're there for the entire month it's almost a
good
thing to see some terrible theatre in the first few days -- it's an interesting experience, and it provides a kind of palate-cleanser for the rest of the month. (I'm especially sticking to that philosophy this year because the first show I saw was without a doubt the worst piece of theatre I have seen in my entire life.)
Aside from the sudden influx of artists, musicians and theatre folk, the main major change Edinburgh experiences in Festival season is the closing down of the Royal Mile, the highstreet that leads up to Edinburgh Castle. During the Fringe, the Mile is a free-for-all for any performer who wants to advertise their show, meaning that all day every day the streets are filled with professional outdoor performers like jugglers and magicians, plus hundreds of people in weird costumes trying to entice passers-by to come to their shows. It's unfortunate that I don't have my camera with me at work, because these few tourist snaps really are the thin end of the wedge when it comes to weird shit you see on the Mile during Fringe season. My favourite so far is probably the moment when I was helping a fire-juggler set up his stuff while a row of voluminously "pregnant" schoolgirls watched on in the front row. I turned around just in time to see a giant 10-foot sperm advertising Sex Education: The Musical walk along behind them.
I considered writing a more formal guide to the Fringe, but by now it's kind of a moot point since we're already halfway through the month
plus
most of the readers of this blog are in different countries, never mind "not in Edinburgh". This is only the second year I've been at the Festival for the full duration, but I do have a few guidelines for general survival and/or picking and choosing between the dazzling multitude of performances.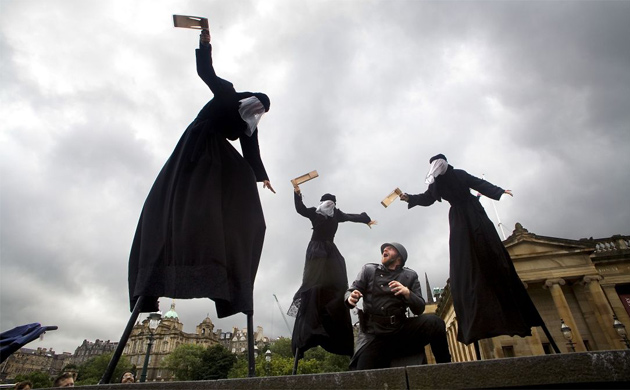 Youtube footage of this "Macbeth" -- fingerquotes non-optional -- can be found here.
One of my most solid rules is NEVER SEE MACBETH
,
which is mostly founded in bitterness because there are always at least (AT LEAST) ten Macbeths on every year and more often than not they'll be put on by an American youth theatre group or some kind of vaguely embarrassing musical-theatre company. Of course, rules are made to be broken and this year I've already found myself going to see one of the Macbeths, a Polish production that involved a lot of fire, nudity, violence and stilt-walking, and the minimum possible quantity of actual Macbeth. The other day I came up with a possible solution to the Macbeth issue, though: DRUNKBETH. I don't have the time or wherewithall (or masochism) to do this myself, but hopefully someone else will one day. The gist of it is: Go to as many Macbeths as possible in a 24-hour period (at least six or seven should be do-able), drinking continuously throughout in some kind of as-yet undecided Macbeth drinking game.
The show I went to this evening was a circus/physical theatre retelling of the Rime of the Ancient Mariner, which had the added bonus of being hosted at Summerhall. I don't know if it's just my own ignorance showing itself or if it's a matter of bad advertising on the part of the venue, but I had
no idea
how varied and straight-up BIG Summerhall is. It plays host to several performance art and dance shows, but is also the main venue for the Edinburgh Fashion Festival (!!!) and a ton of Art Festival stuff that practically seemed like it was being hidden from the general public. For example, located next to one of the bathrooms was this:
an artist based in Edinburgh
, for god's sake) were unaware that most of that stuff was there in the first place.
The show itself was in what seemed to be some kind of museum (also mostly unlabeled), upstairs from "the dissection rooms" (this particular block was a former vetinary hospital/school) and between a couple of disused labs. One of my many favourite things about the Fringe is the random nature of the various performance spaces, which are often totally bizarre and unexpected, and can have a significant impact on the staging and tone of the shows for which they are used.
not
going to it = torment and agony
I'm glad I made it to the Amanda & Neil show because it's so different from what I presume most of her gigs will be like for the next couple of years. Her new album is about to come out, at which point she's going to be touring for at least a year with her new band, on a more traditional touring schedule of album-track performances. An Evening With Neil And Amanda is more relaxed, with appearances from unexpected guests (the hilarious Andrew O'Neill and Michael Pope) and a combination of original Amanda songs, semi-obscure covers, and readings from Neil Gaiman's poetry and as-yet-unpublished next novel.